My Story
The Well-Stocked Pantry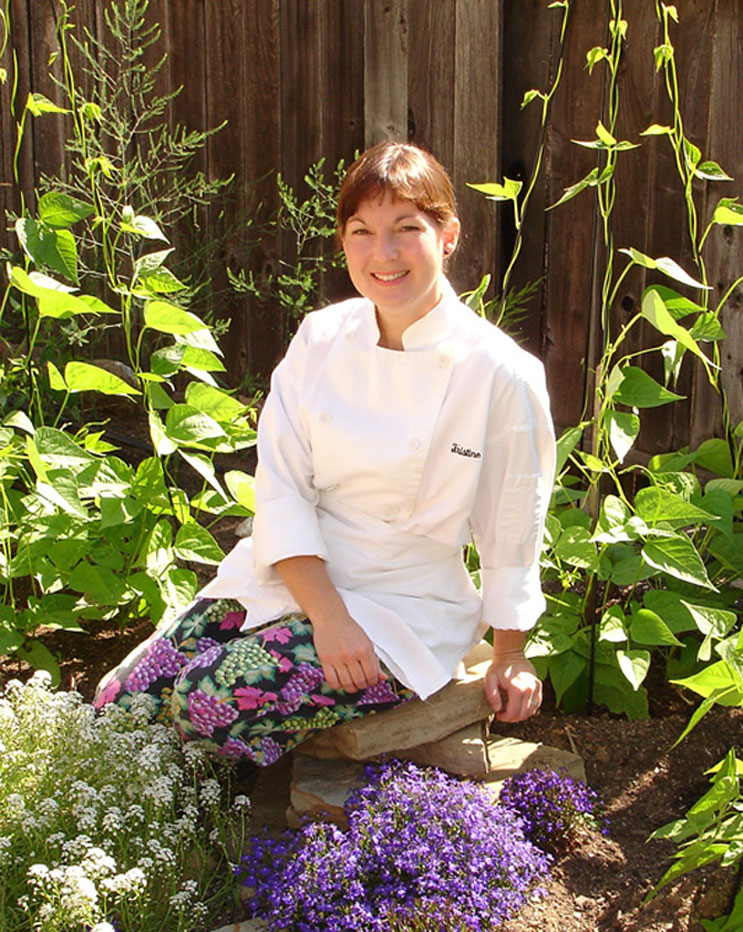 My name is Chef Kristine Schug and this "corner" of the Schug website is just for you. The Well-Stocked Pantry came about from my desire to help people with limited time more fully enjoy excellent food and wine, and how to pair the two. Having your own well-stocked pantry is key.
If you haven't met me before, I have spent my whole career in the Napa-Sonoma wine industry and I have been Winery Chef for Schug for about 25 years. I have spent a great deal of time speaking to people from all walks of life about their love of food and wine, and listened. Now I have a deep understanding of what our guests are looking for when they are ready to enjoy a meal they've prepared and the wine they'd like to enjoy with it.
The Well-Stocked Pantry is the place to visit when you want to learn a bit more about how to utilize recipes in a variety of ways- and why a winery recipe is recommended with one of our wines. Sometimes there'll be a focus on my garden, leftovers and pantry items, or whatever is current in our vineyard or cellar. This is the place for you cooks and wine enthusiasts to get the inside scoop from the Schug culinary program.
Come along! Stock that pantry, cook with me and I'll show you how to invest in your time in the kitchen. Let's make delicious meals from projects we've done together!
-Chef Kristine-
It's Fall! This is my favorite time of year- a wonderful transition from summer ingredients to fall ingredients. It's also the time of year where I begin preparing my fresh garden tomatoes, peppers, etc. into flavorful sauces and relishes to keep in my pantry and freezer. It's so fun to open a "jar of summer" deep in the cold weeks of winter!
Here is one of my most favorite recipes for Fall- it's a vegetable salad featuring lots of roasted and fresh ingredients. It includes a bright, flavorful curry vinaigrette. And a gorgeous color, too! This recipe pairs beautifully with SCHUG Chardonnay.
Enjoy! And remember
FOOD IS LIFE
FOOD IS MEDICINE
FOOD IS PLEASURE
There are so very many wineries in our part of Northern California, it's hard to choose a place to visit or even make purchases. At Schug, we have our own story and wines to share with our guests from everywhere and we hope you love what we do!
Schug Carneros Estate Winery was established over 40 years ago. We made our first wines when a passion for Pinot Noir led our patriarch, Walter Schug, to establish his own label and eventually leave Joseph Phelps. At Phelps Winery, Walter was the founding winemaker crafting wines that put Napa Valley on the map.
At Schug, we continue to be a family-owned winery steeped in history and heritage. We've begun a new chapter, with our dynamic young German-American winemaker Johannes Scheid bringing modern touches to our estate's European-styled wines. Our 100-year heritage — stemming from a Pinot Noir estate in Germany's Rheingau region originally planted in the 12th century — spans an era of pioneering winemaking in Napa Valley before we put down roots in the cool-climate, wind-swept Carneros hills in Sonoma.
Today, we continue to preserve our family's rich winemaking legacy for generations to come, just as Walter had envisioned. We invite you to rediscover the authentic roots of Schug — by sharing a bottle of our family's wines and enjoying our recipes with your own loved ones.