Lamburgers with Indian-Spiced Tomato Sauce and Minted Yogurt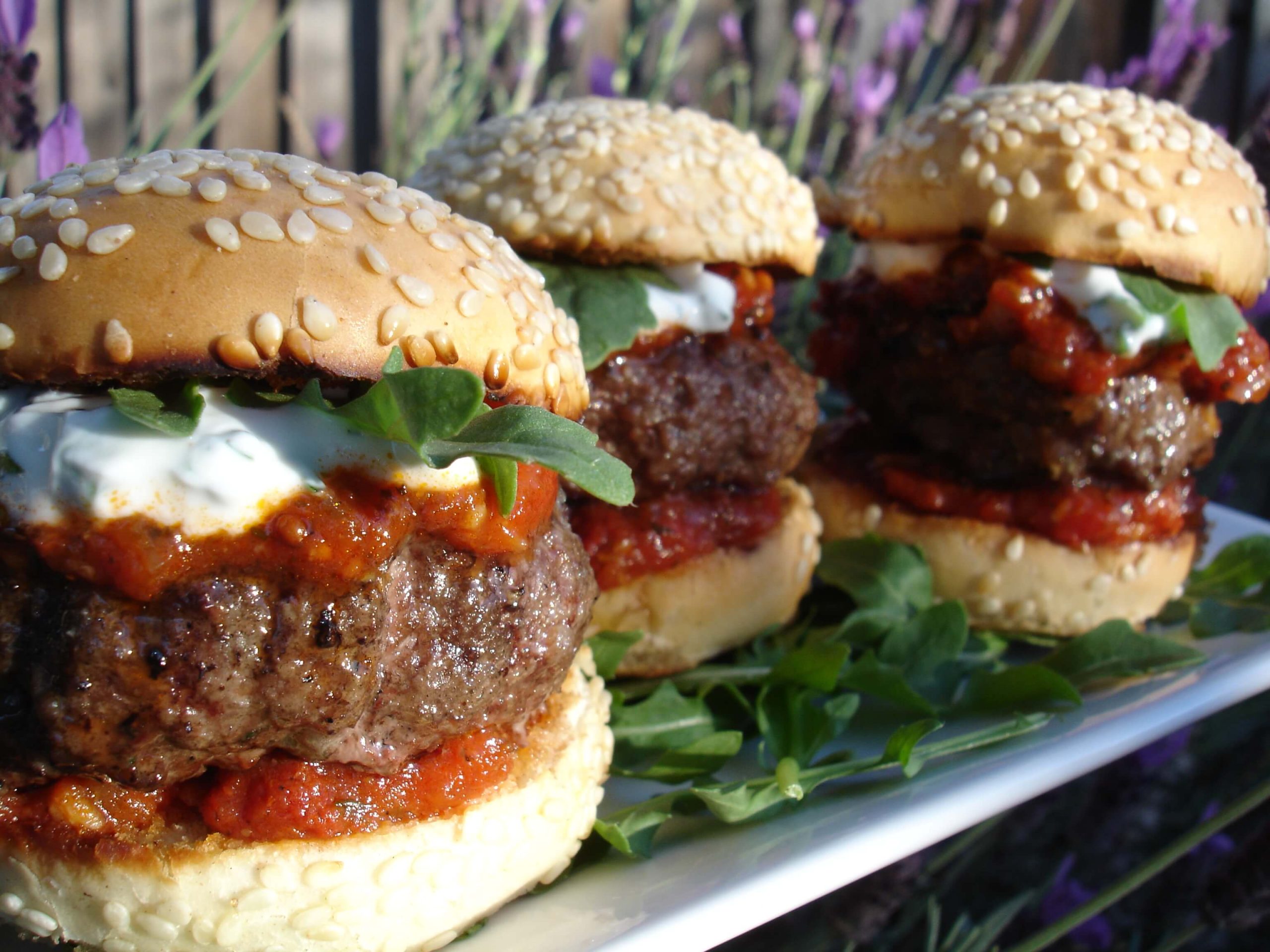 Ingredients 1
1 lb. ground lamb
½ lb. ground beef
1 head roasted garlic, (see recipe below)
1 tsp. salt
½ tsp. pepper
6 hamburger buns, (use your favorite)
Fresh lettuce, (approx. 2 cups washed and torn), for topping burgers
Tomato Sauce
¼ cup olive oil
1 cup onion, finely chopped
1 tbsp. black mustard seeds, (brown is fine, too)
1 tsp. garam masala
1 tbsp. dried thyme
2 large cloves garlic
1 28- oz. can crushed tomatoes
1 tsp. sugar
salt, to taste
Minted Yogurt
3 tbsp. fresh mint, chopped
¼ cup fresh cilantro, chopped
¼ cup fresh scallions, finely chopped
1 cup plain yogurt
pinch salt
pinch cayenne powder
STEP 1:

Begin tomato sauce: Heat the olive oil in a medium soup pot over medium heat. Add the onion and a large pinch of salt. Stir and cook the onions until they are completely soft and beginning to brown. Add the mustard seeds and stir and toast for a minute or two; they may even begin to pop. Next, add the garam masala and the curry powder and stir them into the onion mixture. Cook the onions and spices together about 2 minutes, then add the garlic. Cook the garlic a minute or two, then add the can of crushed tomatoes. Stir the mixture to blend then let it simmer gently 25 to 30 minutes or until it is fairly thick. Stir the sauce occasionally to prevent scorching. If sauce becomes too thick, a little water can be added. This sauce can also be started several hours ahead of time and finished in a slow cooker on low for two or three hours.

STEP 2:

Mix Yogurt: Mix yogurt with fresh herbs and scallions in small bowl; add salt and cayenne. Stir to mix and set aside.

STEP 3:

Make burgers: While sauce is simmering, mix together the lamb and beef in a large bowl. Remove cloves of garlic from the roasted head, mash with a fork, and add to the meat along with the salt and pepper. Divide the meat into halves and make 3 burgers from each half.

STEP 4:

Prepare a grill to medium-high heat. Place burger patties onto a sheet pan covered with two layers of foil. Grill burger patties for 5 minutes, then carefully turn them over and grill the second sides. Grill to desired doneness. Thickness of patties and temperature of grill will affect cooking times. Remove first layer of foil and place cooked burgers on second layer.

STEP 5:

Serve: Place burgers onto buns and top with spiced tomato sauce, minted yogurt and some lettuce, if desired. Serve immediately. Makes 6 lamburgers.

STEP 6:

Roasted Garlic* 4 heads garlic salt and pepper olive oil

STEP 7:

Slice the top portion of the garlic heads off with a serrated knife. The tops of most of the cloves inside should be exposed. Place the garlic heads on a large piece of foil. Sprinkle the tops of each garlic head with a little salt and pepper, then drizzle each of them with a little olive oil. Wrap the foil up and over the garlic heads so they are sealed tightly within. Put the garlic package on a baking pan and place it into a preheated 350 degrees F oven. Roast the garlic for approximately one hour, or until it is a nice golden brown color. Do not let the garlic become overly dark, it will become bitter. Remove package from oven and allow to cool. Garlic is now ready for use or freezing. If freezing, put garlic into individual closeable plastic bags.
*(This roasted garlic is a nice recipe to make large quantities of since it's very little extra work to make enough to freeze!)